A man of upmost character: Thompson retires after 30 years
Hang on for a minute...we're trying to find some more stories you might like.
A bespectacled man always found with a smile and a kind hello, world history teacher and coach Jeff Thompson is retiring this spring. After 30 years of coaching cross country, track and field and several other sports and teaching many of West's young freshmen and pupils, he will be saying goodbye to the green and gold.
Thompson's journey with coaching began with JV football. Fresh onto the scene at West, he ended the football team's search for a "warm body" to fill an assistant coaching position. He reflected on how he did nothing with the actual game but helped manage the players and the sideline. Luckily for him, the next year presented the gateway into coaching cross country. One of the head coaches for the girls team was retiring, so the other head coach, Louis Newton, offered to take the young Thompson under his wing and show him the ropes. For many years later, Thompson coached both cross country and swimming with fellow English teacher and coach Lynn Peterson.
Under the direction of coaches Newton and Thompson and later Peterson as well, the girls cross country team won the 1994 and 1996 state championships. Enabling him to reflect on the past while coaching a new generation, freshman Janie Peterson, Peterson's daughter, is now on the cross country and track and field teams.
"There's been several times where she's worn a shirt that her mom has given her that is probably, I guess it's got to be a 20-year-old shirt, and I'll remember the shirt and say jeez, there's probably not many of these shirts around," Thompson said.
After 14 years Thompson gave up swimming and gradually took up coaching winter and spring track and field. He saw it as the most logical path, as it gave him the opportunity to "work with a lot of the same kids through the whole year." Thompson's year-round commitment to coaching is what has enabled him to form such great bonds with his student athletes. Indicative of these bonds is the close friendship Thompson has with the Newsome family.
"He has been my dad's co-worker and best friend for as long as I can remember, and I have never met anyone who shows his upmost character no matter the circumstance. My favorite memory with him would be when we found out we were going to states, and Thompson gave me a big hug and told me how happy he was. It was the best feeling in the world," senior Brock Newsome said.
Every year at the end of season banquets, the boys reflect on how welcome Thompson always makes them feel, with his ability to foster a familial atmosphere and his unrelenting belief in all of them.
"Thompson does a really good job of making everybody feel included and that they're supposed to be there. I think that's important for having good team chemistry," sophomore Jeremy Eldredge said.
Thompson claimed to be inexperienced with coaching prior to teaching. However, he drew much of his inspiration from his dad, who coached many of his little league teams when he was a kid.
"I think he was kind of the model as far as temperament; I like to think of myself as being pretty even-keeled. I always felt like that, that was my personality," Thompson said.
Thompson succeeds in providing a calm nature to the track. He always inquires how the athletes are doing, regardless of whether or not they compete in his events. He supports everyone, no matter if they finished last, got a personal record (PR) or won their conference championship race.  
"I always take the position that kids are trying the hardest they possibly can, and so sometimes it's just a matter of having them relax to perform better," Thompson said.
After 30 years of dedication and fond memories, Thompson and his family are beginning a new chapter in their lives by moving to Maryland to be closer to family. Though his calm and scholarly words will no longer resonate through the halls of the 400 building and over the curves of the track, all of his students and athletes, past and present, will remember their time with him.
About the Contributors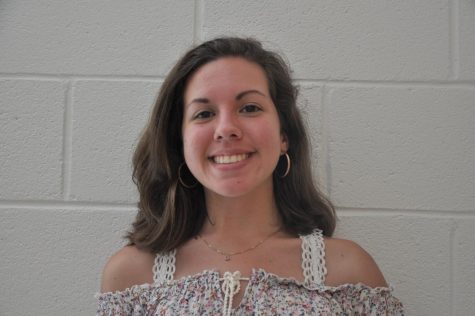 Leanna Bernish, News Editor
Leanna Bernish began writing for the Zephyr as a news writer during her junior year of high school. She wrote occasionally for sports and features as well,...