No Longer Holding Their Breath: Senior swimmers commit to The College of William & Mary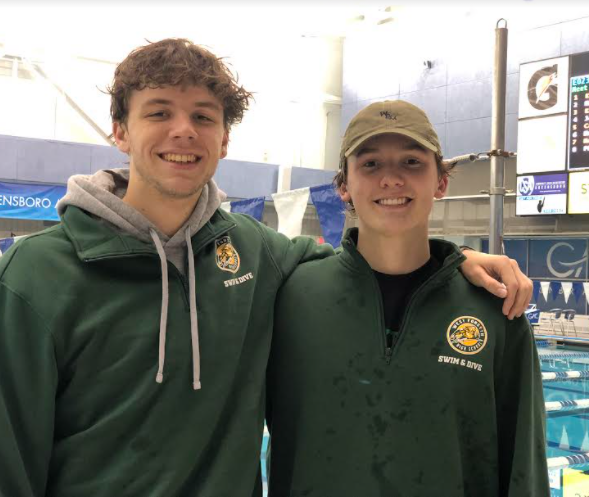 From the time seniors Alex Valliere and Logan McDonald were 6 years old, the two have competitively swum with and against each other. However, this June will not be the end of the road for the bromantic duo; as both of the Division 1 swimmers have committed to The College of William & Mary for the next four years.
The two started swimming for opposing summer league swim teams when they were 6, became teammates on the YMCA's Tyde team around age 12, and both made the swim team at West their freshman year.
"I never really thought that we would end up going to the same college. It's crazy," Valliere said.
A lot has changed since the years of leisurely summertime training; today, Valliere and McDonald devote a large chunk of time to their sport. They have six two-hour practices a week, as well as lifting weights and other strength training. All of the hard work is well worth it to attend a school with a great atmosphere.
"It's in a pretty competitive conference, it was my best academic option, it's a great school, and it's close to home," Valliere said.
McDonald had positive things to say about W&M as well.
"I really like the campus and the coaches were really really nice. All the people were really nice," McDonald said.
The men's team at W&M won the Colonial Athletic Association (CAA) Championship six years in a row before the program was cut in 2020. Now the team is rebuilding to reestablish their winning culture. Valliere and McDonald are eager for what their presence will bring to the team.
"It's going to be a lot of fun. I think that Logan and I are improving a lot. I think that we can really change the culture of the team and win some championships there, so I'm excited," Valliere said.
Despite all of the serious training, McDonald and Valliere have not forgotten how to have fun together.
"He's really energetic and there to have fun. Overall just really funny and fun to be around," McDonald said.
Valliere also appreciates McDonald's sense of humor.
"He's pretty funny, a fun guy to be around, and we have a bunch of classes together, so we're pretty much together the whole day. He's just a really good friend," Valliere said.
Their friendship will be crucial when navigating new experiences at W&M.
"Knowing him already it has been so easy to make friends with all the other recruits. We're already so close, so I'm excited," Valliere said.
"He definitely makes me feel more comfortable. It's less scary, I guess, to make friends," McDonald said.
Though the boys already have their plans for college figured out, there are still several goals they have yet to meet before they graduate. This season, McDonald hopes to break school records in the 100 meter butterfly (51.55, Luke Vlahos 2019) and win a state championship in the 100 meter breaststroke.
"My club time for the 100 breast is faster than the school record (58.79, Chad Zuleger 1994) by more than two seconds, so I'm trying to get that; same for the 100 fly. Club is faster than the school record, so I want that too," McDonald said.
Valliere hopes to be a state champion in the 50 meter freestyle, and is aiming to break school records in the 50 and 100 meter freestyle (21.05, Tucker Burhans 2017 and 45.33 Tucker Burhans 2018, respectively).
McDonald and Valliere are looking to break school records together in the 200 meter freestyle relay (1:28.47, Chen, Spangler, Jones, Greer 2008), as well as their own record in the 200 meter medley relay (1:35.77 McDonald, McKenna, Jones, Valliere).
"We are always on the A relays together. We are going to break the school record again in the 200 medley and the 200 free. Our 200 medley might set a state record if we can get a fourth leg to swim with me, Alex and Jonah," McDonald said.
Since a young age, the two have motivated each other and both attribute some of their successes to the competitive bond they've built.
"He's just a really hard worker, dedicated, and we push each other every day in practice to be the best we can be," Valliere said.