Swim and dive team glides past competition at state meet
Hang on for a minute...we're trying to find some more stories you might like.
Being heavy in both freshmen and seniors this season, with 12 and 11 respectively, the swim and
dive team achieved balance between the varying levels of experience. This balance created
confidence in coach Sandy Thomerson as the team headed to Raleigh's Triangle Aquatic Center
for the Feb. 8 4A North Carolina High School Sports Association State competition.
"We are all excited and pumped up. There are a lot of fast swimmers here… Going to be a great
meet!" coach Sandy Thomerson said.
A great meet it was. Several swimmers achieved new school records. Junior Luke Vlahos swam
the 100-meter butterfly in 51.55 seconds, earning 12th place. The girls 200 freestyle relay team
of Sarah Frisbie, Claire Davis, Shelby McChesney and Lizzie Parks swam 1:39.20 minutes,
earning 10th place.
Senior Sarah Frisbie also achieved a personal record in the 50 freestyle of 23.88 seconds, earning
eighth place. Senior Jack Joram placed 11th in diving, which was exceptional, given that he was
seeded in 20th place. Junior Luke Vlahos also earned 15th place in the 200 freestyle. The boys
200 freestyle relay of Logan McDonald, Griffin Watkins, Alex Valliere, and Luke Vlahos earned
15th place.
"[I] was very pleased since three relays made it back for finals. Also, our women placed 19th
overall, which was the highest ranking in our conference ahead of Reagan and Reynolds,"
Thomerson said.
Although the state meet was bittersweet for the seniors, being their last meet as swimming
Titans, several of them felt it was the perfect ending.
"I couldn't have asked for a better season this year. The people were great; it was truly an
amazing way to spend my senior year," senior Karly McChesney said.
While Thomerson looks forward to what the team can achieve next year, she is pleased with this
year's achievements.
"[The goal for] next season is to have more individuals make states and [to] continue our trend
with the relays. The kids had a lot of fun and considering we had three freshmen go, that's an
accomplishment," Thomerson said.
About the Contributors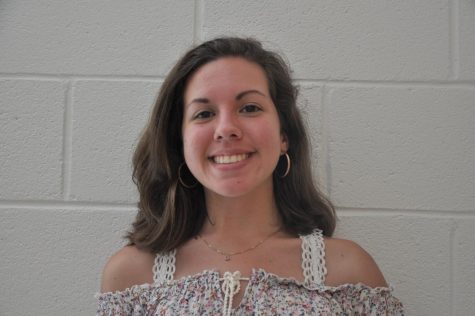 Leanna Bernish, News Editor
Leanna Bernish began writing for the Zephyr as a news writer during her junior year of high school. She wrote occasionally for sports and features as well,...