Students have Spoken: SGA election results are announced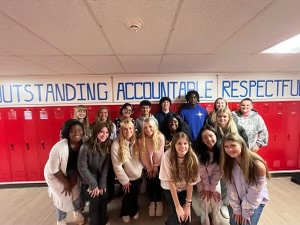 Titans have spoken as they cast their vote for the next president and vice-president of the Student Government Association (SGA). The candidates created videos providing more information and motivation for running. The election ran from Friday, May 19, and ended Monday, May 22, with results being announced Tuesday, May 23. After careful selection and much anticipation, junior Hobart Jones was elected as president, and junior Stella Webster was elected as vice president. SGA advisor Tavia Gilmore is proud of both the winners and knows that both students will strive to lead the school to the best of their abilities.
"They both are deserving because they are both very hardworking students. They both really contributed immensely to the association this school year," Gilmore said.
Jones has intentions to be the main voice for the student body and to lead SGA toward a brighter future.
"I'm going to bring some more ideas and make sure the things that we did last year we can improve on. Last year we did pretty well, but next year we're going to be even better and tweak some of the things," Jones said.
Webster has been in SGA for two years and is looking forward to raising school spirit and making the students feel as included as possible.
"I just honestly love helping out people in the school and I find it fun to organize things and the main reason was to just help the people," Webster said.
Like any leader, each candidate ran for their interest in the well-being of the students, and with skills unique to them, they will do their best to reach their potential as leaders.
"I'd say I'm really just for the people and I think what I do mostly is listening to what other people say and then taking initiative from that and I think that I'm more of a talkative type of leadership," Webster said.
Gilmore has faith in these students to do well in their new positions and knows that their creativity and skill will mark a new beginning for the organization.
"Hobart is very quiet, but he's very dependable and he's there for everything. He puts in all effort and is always volunteering. I would say Stella will make a great vice president because of what she brought to SGA this year. She has this sense of service and sense of care for everybody," she said.
Lauren York, the second co-SGA advisor also agrees that the winners will be assets to SGA.
"Hobart definitely showed this year that he is very responsible, very mature, whatever he signed up for he attended. He's creative and innovative and he came highly recommended by all of his teachers. Stella just has a heart of gold. She also is somebody that always shows up to the events, very spirited, she is very much a team player. She is somebody who is very approachable, and I think she will make an excellent vice president for all of these reasons," York said.
Not only do teachers have faith in their leaders to be successful, but student voters also know that the candidates will be assets to student government.
"I voted for Stella Webster because she is the kindest person you'll ever meet. All her intentions are so sweet, so kind, she just wants to help everybody," junior Mallory Hearn said.
"He [Jones] knows what he's doing and he always figures out a way to make everyone feel involved. Over time I've seen all the great qualities he has that make him more than competent to lead the student body in a positive way," junior Valentina Cova Becerra said. The candidates are enthusiastic about another year of student government and representing each student to make them feel heard and respected.