Athlete of the Year: Sydney Horton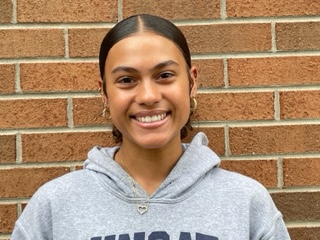 As spring sports have wrapped up their seasons, the Titan softball team has one last thing to celebrate before they get to begin their summer break: A very rare accomplishment by one of their players, as sophomore shortstop Sydney Horton was elected by coaches and staff as Athlete of the Year.
"I believe that Sydney won Athlete of the Year because her batting average of over .700 and fielding percentage of over .900 were amazing and I'm sure caught the coach's attention," athletic director Mike Pennington said.
Horton is a key piece of the team. She is someone that other teammates and even upperclassmen can look up to, whether it's her work ethic or her overall attitude.
"She comes to all the fall workouts and practices and leads by example. Although sometimes she can be her own worst critic," head coach Kevin Baity said.
Most of Horton's life has been spent playing softball, whether it was tee-ball at the age of 5 to now being a captain on the Titan softball team.
"I started playing softball when I was 5 years old and it's stuck ever since," Horton said.
Over the past two seasons she's been extremely successful. In her freshman year, Horton broke the school record for highest batting average, batting over .600 last season. She improved on that this year and batted over .700 (equivalent of seven hits every ten at bats). She also leads the team in home runs and stolen bases over the past two seasons, swiping 58 bases in that time frame.
While she may be one of the better players on the team she's had her fair share of road blocks that she's had to overcome in her first two seasons of varsity ball.
"The biggest obstacle I had to overcome this season was my confidence; I tend to get in my head sometimes," Horton said.
The team had their fair share of success this season as well going 20-4 overall and 13-1 against Conference opponents. That record included a 3-2 defeat of East Forsyth that earned them a share of the regular season conference title.
"One of my favorite memories from this season was winning the [regular season] conference championship," Horton said.
Receiving athlete of the year as a sophomore is an unusual accomplishment. In previous years, this award has gone to mostly senior athletes. Horton receiving this award says a lot about how well she played last season and this season.
"I feel really grateful to receive this award because it shows how hard I've worked and how much work I have put in this season," Horton said.
With her junior year coming up next year the college recruitment process will heat up. After high school she hopes to continue her softball career at the collegiate level.
"I would love to play for Clemson, Virginia Tech or Duke after high school if given the opportunity," Horton said.