"Fool's Paradise" is a meandering, mediocre Hollywood satire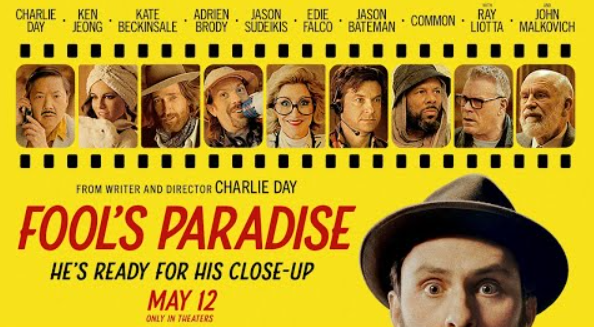 1.5 /★★★★★
"Fool's Paradise" is rated-R for language, some drug use and sexual content
When it comes to movies, I love an underdog. Anytime I haven't heard much about a film or the online reviews are less than flattering, I am immediately inclined to love it with all of my heart. Try as I might though, "Fool's Paradise" was a film even I couldn't get behind.
Directed, written and starring sitcom superstar Charlie Day who plays Charlie Kelly in "It's Always Sunny in Philadelphia," this movie had all the makings of a delightful satire, but honestly, I wanted to take a nap halfway through. The premise of the film sounded like a good idea; a struggling publicist (Ken Jeong) runs into a recently released patient of a mental hospital (Charlie Day) who bears a striking resemblance to an actor who is causing more trouble than he's worth. Day takes over for the actor and quickly rises to fame as "Latte Pronto" with the help of his new publicist and a greedy team of agents, businessmen and lawyers.
For this being Charlie Day's first attempt at directing, he did a decent job. The cuts between shots were choppy at the start but became smoother as the movie continued. I wouldn't write him off completely just because of this movie, but I don't think he is going to be an extraordinary director anytime soon.
There was one aspect of this movie that I still can't stop thinking about: the setting. There were so many conflicting elements, that I truly couldn't tell you the intended time period if I tried. Modern sports cars drove on the same roads as old Volkswagen bugs, flip phones and smartphones were used in the same room. Latte Pronto dresses in a vaguely 1920s garb while the rest of the characters appear to be more up to date on fashion. The mental hospital Pronto is released from has an old-timey feel to it, but the outside world and mansions are more modern. This lack of coherence felt more akin to a psychological thriller and was not a hindrance but was definitely not a help. Perhaps it was an attempt at conveying that Pronto does not belong in this world but it got lost in the hustle and bustle of the film.
The biggest thing this movie has going for it is the cast. Kate Beckinsale and Jason Sudeikis both played over the top secondary characters representative of classic Hollywood archetypes. Adrien Brody as Day's friendly, albeit wildly unpredictable, co-star was a masterclass in weaponized chaos. These actors seriously killed it in their performances, but it still wasn't enough to save the movie, and it took me a long time to figure out why. "Fool's Paradise" was given every resource and opportunity to be great. The music was lovely and the sheer star power was enough to put it on the radar of critics— for Pete's sake Ray Liotta was in it! The writing wasn't great, but the real issue is that the premise leaves nowhere for the plot to go. Charlie Day dug himself a hole with this concept, and it set the movie up for failure.
Typically, when a movie is bad I can still respect two things, the comedy and the plot, but "Fool's Paradise" was a colossal failure on both fronts. Day and his team seemingly ran out of steam. The beginning had some promising moments and introduced a unique concept, but that momentum died quickly. It was almost like the creators were still trying (and failing) to come up with the next plot point until they ran out of time, and the movie just ended with nothing else having happened.
Latte Pronto is completely stagnant. He has no development and neither do any of the other characters, which is truly impressive seeing as every one of them is severely flawed. More than this though, Pronto is not mentally there. He doesn't understand what is happening and is being pushed around by everyone who meets him. They all see whatever they want to in him and while this is sad, after an hour and a half, it becomes less effective. Pronto doesn't have any goals; he isn't in danger and seems most content when he is essentially homeless. If there are no emotional stakes for the character, there are no stakes for the audience.
I thought that this movie would be "Napoleon Dynamite" style of weird, but it wound up being a big swing and a miss. I'm sure that there is someone out there who would love this movie, but that person is not me, and based on the abysmal reviews from IMDB, Rotten Tomatoes and Metacritic, that person has yet to be found.