The Big Game: Super Bowl Sunday is finally here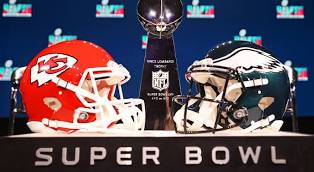 The wait has finally come to an end as tonight the NFC Champion, Philadelphia Eagles will meet the AFC Champion, Kansas City Chiefs in Super Bowl LVII from Glendale, Arizona. This will mark the third time in the last five years that Kansas City has appeared in the contest, and the first time for the Eagles since their magical Super Bowl LII run in 2017. Each team was the
No. 1 seed in their respective conferences and the parallels between these two juggernauts go far past just their position.
Both teams ran through the regular season with 14-3 records and while the Chiefs have faced a little bit of adversity in their two playoff wins this year against the Jaguars and the Bengals, the Eagles were unstoppable in their two playoff matchups, absolutely destroying the Giants and the 49ers en route to the big game tonight.
The main storylines for tonight, however, seem to rotate around the two quarterbacks; last Thursday night Patrick Mahomes won his second NFL MVP award but Eagles quarterback Jalen Hurts was close behind in the running for the award as he comes in riding the best season of his career, setting the stage for what should be a legendary duel of quarterbacks.
Naturally, Super Bowls not only pit the best in football against each other, but family and friends against each other as well, however, almost no one will be as split in tonight's matchup as Donna Kelce. Amidst all the links between the two teams, another exists within the Kelce family as one son Travis is the star tight end for Kansas City while his brother Jason is an offensive lineman for the Eagles. The NFL has capitalized on this marketing opportunity and thus named tonight's game, "The Kelce Bowl."
Predictions for tonight's winner have been relatively split with neither team being given a substantial edge, the betting line is almost even which means everything is set up for it to be a very entertaining Super Bowl, you won't want to miss the action tonight beginning at 6:30 on Fox.
Whether you're an Eagles fan, a Chiefs fan, or you're just tuning in to watch Rihanna's halftime show, this is one hallmark sporting event that you won't want to miss out on so grab a drink, your snack food of choice, and enjoy the last live NFL football you'll see until next Fall.