Cozy Coves: Relaxing places on the coast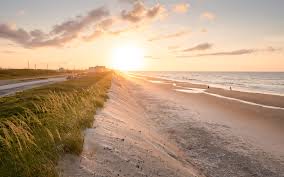 The school year's coming to an end and the weather has warmed up. It's almost time to take a break from work and enjoy the sun. With the increased gas prices and the cost of traveling abroad, here are some places you can visit in North Carolina to relax in the sunshine with lower COVID risk.
1. Topsail Beach
In Pender County lies a secluded place that is home to only 427 people. It's a small town that offers a variety of things to do: from helping sea turtles at the Sea Turtle Rescue and Rehabilitation Center or relaxing at Serenity Point and watching the sunset. There's also a WWII Museum to walk through that shows the history of the missile plant that was once there. Topsail also has a skating rink that's been there for about 50 years for you to enjoy if you need a break from the sun.
2. Cape Lookout
On the southern part of the Outer Banks is a series of undeveloped islands that can only be reached by a boat or ferry. This seashore offers a variety of things to do; you can watch mustangs run down the beach, climb the historic lighthouse for a view of the sea, or camp overnight and see the stars. It's the first area certified as a Dark Sky Park on the Eastern Atlantic Coast, which is an area that has little to no light pollution and offers a clearer look at the night sky.
3. Sunset Beach
On the seaside in Brunswick County, Sunset Beach was named as one of the best beaches in the world by National Geographic. It's wide, often uncrowded and offers many aquatic activities to enjoy from bodyboarding to surfing. On the land at Bird Island is the "Kindred Spirits" Mailbox, where everyone who visits can put their dreams and wishes into it for good luck. There's also a planetarium you can visit to enjoy the sky from a different perspective.
4. Hammocks Beach State Park
The four mile undeveloped barrier island Hammocks Beach State Park of Onslow County provides a complete coastal camping trip. As an untouched beach, it's a great way to disconnect from the internet and unwind. You can walk your dog or take a trip in a kayak. If you're more adventurous, you can even go and explore some of the untouched islands around the park.
5. Ocracoke Beach
Ocracoke provides 16 miles of latent beaches for anyone to enjoy. It requires a ferry to get to and the beach itself is very secluded and offers a chance to relax with few disturbances. Ocracoke is famous for shelling and provides a lot of places to collect seashells. The beach has a wildlife preserve for anyone to visit and enjoy some more diverse nature.
No matter what you choose to spend the summer doing, enjoy the time away from school work and escape by taking a three-four hour drive. Whether you're watching the stars or watching mustangs, the choice is up to you.