Cardinal Directions: Uncommon places to visit in North Carolina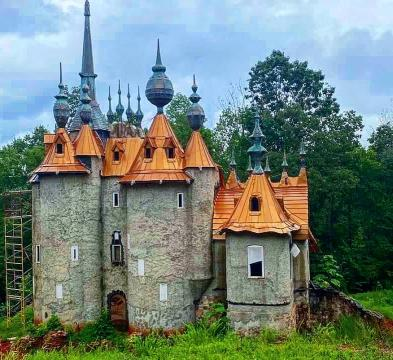 As spring starts and the weather changes, it feels nice to get out and get some fresh air. Some good places to go require nothing more than a drive since they're right here in our own state.
1. Castle Mont Rouge (a hour and 15 minutes from West)
In the woods of Rougemont lies a structure with a mix between Middle-Eastern and European architecture named Castle Mont Rouge. It was constructed by a local artist named Robert Mihaly as a vacation home and art studio. Unfortunately, the construction on the interior was never finished after his wife passed away. All that's left is the abandoned castle with graffiti on the inside. Although you can't go inside legally, you can still get a look from the outside and it provides a nice sight and a good photo opportunity.
2. The Road to Nowhere (three hours from West)
A place of unfinished work in Bryson City, the road started out as a way to connect the City back to a place called Deals Gap after it was separated by the Fontana Dam. It was extended for seven miles until it abruptly ended in a tunnel for unknown reasons and earned its name. The sign to the road reads 'Welcome to The Road to Nowhere- A broken promise! 1943-?.'
3. Cloud Chamber for the Trees and Sky (a hour and 40 minutes from West)
In Raleigh, a British art exhibit made by Chris Drury has a circular chamber made of stone, wood, and straw. It takes inspiration from a fairy tale, as anyone who visits can walk into the chamber where there's no light except for a small hole on the roof, this hole acts as a camera obscura. This creates an optical illusion for people to walk in the clouds and treetops created from just this small cottage and some sunlight.
4. Henry River Mill Village (one hour from West)
Step into a movie set in an abandoned village in Hildebran, the village was once the set of 'District 12' in The Hunger Games and is now owned by a 83-year-old man named Wade Shepard who lives close by. The village was abandoned in 1987 after shutting down the mill in 1973. Some who have been there have reported paranormal activity of three old mill workers there who allegedly can be seen talking to one another, and if you're lucky (or unlucky) enough to see these alleged apparitions, they'll look right back at you.
5. Land of Oz Theme Park (a hour and 45 minutes from West)
Opened in 1970 on top of Beech Mountain, the Land of Oz Theme Park provides any avid fan of 'The Wizard of Oz' book, a real life version of a yellow brick road to step their own ruby shoes on and experience the events of the books with real-life actors. Although it only opens in the fall during the "Autumn of Oz" event because of a decrease in park numbers, you can still ask the owners of the park themselves during any time of the year and enjoy the Land of Oz by yourself or with your friends.
Whether you decide to walk the clouds or the yellow brick road, the choice is for you to decide while enjoying the new spring weather and exploring some unusual spots in our own backyard here in North Carolina.