Graduation Celebration: COVID Edition — Vol. II
Don't be sad; you're almost a grad. However, for the second year in a row, COVID is still a factor in seniors trying to graduate. Luckily, this year, vaccines have become an option for many, and West Forsyth High School is now better prepared than before. We are having our graduation ceremony outdoors at the Truist Stadium on June 5 at 11:15 a.m.. In addition to that, each graduate has been allotted four tickets for guests to attend in an attempt to minimize attendees and the possibility of spreading coronavirus.
Despite all of the negativity created by and surrounding COVID, seniors are still excited to see what their futures will entail. Although it might not be a conventional year, future graduates are still trying their best to celebrate their accomplishments.
Graduation celebration plans vary, ranging from careful, safe parties to limited celebration in order to best limit spreading possibilities.
"I plan on going to the graduation ceremony, and my mom, dad, grandpa, and sister will be there watching! I won't be having a party or anything because my family takes quarantine very strictly, but I'm happy to enjoy that event with them, especially because my brother was a 2020 graduate who didn't have a proper graduation ceremony," senior Julia Barton said.
Choosing a different but still cautious path, senior Skylar Howard said, "After graduation in the morning, my parents are throwing me a graduation party at my house with great food and great friends! Obviously, I'm not trying to invite as many people to keep everyone safe, but other than that, we're going to have fun and celebrate us!"
Senior Ava Campbell chose a middle ground between the two, responding, "After the actual ceremony, my family and I are going to go out to eat downtown for a late lunch."
Senior year is often a bittersweet time for many because as students look back at what they enjoyed and will miss from high school, they can also look forward to exciting things to come. The biggest common thread was that seniors will miss their friends when they leave for college.
"I'm really excited to experience the life of being a college student, but it's sad to see high school come to an end [as I] go to other schools than my friends. I will miss being a part of the West Forsyth cheer team and being the yearbook senior editor, along with all of the great memories and friends I've made throughout the years," Howard said.
Barton commented, "[I'm most excited about] going to college for sure. I'm excited to try new things and broaden my horizons by living somewhere else. I've lived in Clemmons since I was born. [But I'll miss] having fun with my friends and the clubs. I've done a lot of activities here at West that were different this year because of COVID, and I don't think I appreciated them enough when we had normal school."
Focusing a little more on future prospects as opposed to high school, senior Grant Huff added, "I'm pretty excited to go to college so that I can make new friends and find something I'm interested in. [But] I'll definitely miss a lot of my friends. I know that all the opportunities I have to make memories with them are going away."
"I'm most excited about going off to college. I've found a roommate, and we've become best friends extremely quickly, so I'm ready to live with her. [However,] I'll really miss being able to see my friends every day and have the unique experiences that are only possible at West," Campbell stated.
Even though there hasn't been much in-person interaction this year, seniors still look fondly back at memories and lessons learned from years prior. Two clear themes shone through — appreciation for their time in high school and recognizing that high school is just a blip in their timeline.
Barton advised to underclassmen, "Don't take anything for granted. Go to sports games, try clubs you're interested in, and pay attention in school. Thank your teachers when you know they've done a good job."
"Never take things for granted. Things change so quickly, and it's so important to live life in the moment," Campbell said.
"Enjoy it while it lasts, and don't take any moment for granted. Graduation comes faster than you think, and you really will miss out if you don't stop to take it in," Howard reflected.
Alternatively, Barr said, "High school isn't going to be forever. It's just only four years, so all that petty drama won't even matter once you graduate high school."
"I'd tell [underclassmen] to relax; bad grades aren't going to drag you down forever," Huff added.
As a happy ending to all of their high school careers, Julia Barton has declared that she will be attending UNC at Chapel Hill in the fall, Skylar Howard and Grant Huff have enrolled in Appalachian State University, Ava Campbell has committed to the University of South Carolina, and Kristen Barr has officially decided on East Carolina University! All in all, seniors are just happy to get the opportunity to graduate this year!
About the Contributor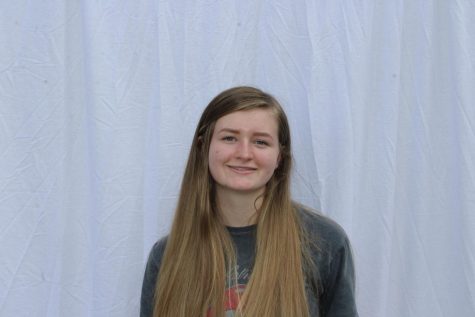 Lillian Reid, Features Writer
Lillian Reid is a senior features writer for the 2020-2021 school year, writing on the staff for the past two years. She is also the president of the Mindfulness...