Good games to take away the sorrow of quarantine
Quarantine has been a seven-month nightmare. We've been trapped inside with not much to do, and the things we've been doing have become monotonous. So why not play some video games? Here's a list of games that either came out or became popularized during quarantine.
Fall Guys
Genre: Battle Royale, Platformer
Platform: PC, Playstation 4
Released: Aug. 4, 2020
Fall Guys hit the scene as a fun game that you could spend hours on. You're in a lobby with 60 other players, and you're all competing to be the winner and earn the crown. How do you do this? Why, through a series of aggravating minigames, of course! Fall Guys has a variety of minigames to choose from, though all of them repeat rather quickly as there are only 25. Some of them are simply a race to the finish, while others require doing a certain task to avoid being eliminated, and some just aren't fun. It's certainly much better to laugh at with friends than to play alone. If there were more minigames, the problem would be resolved. As it stands, however, it's unknown if any new content will be added in the future, so I'm giving the game a decently low rating.
Rating: 4/10
Among Us
Genre: Hidden Role, Social Deduction
Platforms: PC, Mobile
Released: June 15, 2018
Among Us has exploded since September due to its fun factor and replayability. You're in a group of four to ten people and play as crewmates working on a spaceship to complete tasks and make sure everything is in order. The only problem? Some crewmates are not who they seem, as they are imposters with the goal of killing all the crewmates and sabotaging the ship. The tasks are small, simple, and generally don't take too much time, as some can be as easy as swiping a card (swiping your finger across the screen) or inputting a code (tapping numbers in the right order). If an imposter kills someone, it's the other crewmate's job to report the body, and a meeting is held to vote out who they think did it. It is essentially Mafia for the modern era. Among Us is much more fun to play with friends over a Discord call than to play alone, as the chat function is not always reliable. Overall, the game is incredibly fun, and outsmarting the other players as an imposter brings me unimaginable joy, earning it a high rank.
Rating: 7/10
Animal Crossing: New Horizons
Genre: Social/Life Simulation
Platforms: Nintendo Switch
Released: March 20, 2020
Ah, Animal Crossing. Originally debuting on the N64 in Japan in 2001, the series newest entry was a smash hit. With quarantine beginning only five days earlier, what could be a better way to spend all your new free time than a game where you live on your own island to commune with cute animals and talk to them about fish, bugs, and fruit? While adorable, Animal Crossing is a horribly chore-based game. Building your island and bringing in villagers is a lot of work that can be difficult to keep up with, which makes me hesitant to give it an all too high rating. If you like cute animals and don't have dedication problems, then this one is definitely for you. If you have trouble staying focused, be prepared to leave this game on your shelf for a month or so before returning to it.
Rating: 6/10
Hatsune Miku: Project Diva Megamix
Genre: Rhythm game
Platforms: Nintendo Switch
Released: May 15, 2020
Project Diva Megamix was the first of the Diva series to appear on a Nintendo console, originally being a Playstation exclusive. With a collection of 178 songs sung by Hatsune Miku and other stars of the VOCALOID program, this game is great for anyone who enjoys J-pop and wants a fun, cute, and unforgiving rhythm game they can take on the go. This game is no walk in the park; miss one note and you could be ruined. Though given that the songs are only two to five minutes long and nearly all of them are incredible bops, it's easy to play them again and again. Rhythm games are naturally good pick-up-and-play games, and this one is no exception, earning it a high rating.
Rating: 8/10
Skyrim
Genre: Action RPG
Platforms: PC, Xbox 360, PlayStation 3, Xbox One, PlayStation 4, Nintendo Switch
Released: Nov. 11, 2011
The Elder Scrolls V: Skyrim was made by Bethesda and since its birth, it has steadily crept onto every platform Todd Howard, game designer, executive, and producer, can get his grubby little hands on. It is, in all honesty, a good role-playing game. It serves its purpose with an incredibly large main campaign, millions of things to do, and a vast modding community. But are we REALLY still impressed by Skyrim? Of course it's on this list as a good game to play during quarantine; it takes a thousand hours to make any real progress. Here are the real facts: Skyrim is boring and it has become outdated. It's been around for nine years, and we've all had time to experience being the dragonborn. We've all had time to join the Thieves Guild and the "Bother-hood" of Evil. The graphics aren't impressive anymore. They were back in 2011, but again, it's been nine years. We know you're proud of it, Todd, but this game deserves nothing above a 3/10. Now give us Elder Scrolls VI.
Rating: 3/10
Video games are a great way to spend your time. They can teach you lessons about yourself and the world around you, they can provide an outlet for your emotions, and sometimes they can just be for fun. Sometimes when life looks bleak, a bit of fun is all you need.
About the Contributor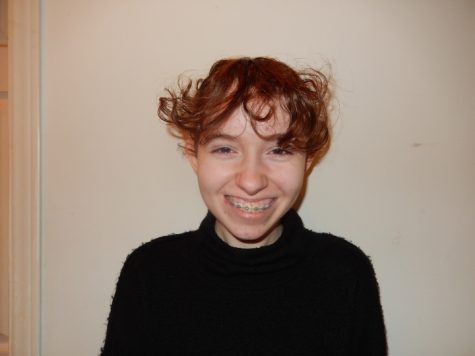 Lee Krebs, Opinion Writer
Lee Krebs is a Junior working on the opinion staff. This is their second year on the staff and they are excited to get their writing out. They enjoy writing,...