Athlete of the Month: Leah Harding
Being a team player takes hard work, a positive attitude and building up the determination to keep pushing forward. These qualities stand out the most in senior Leah Harding of the girls tennis team. 
Harding has been playing for the tennis team for the past four years at West, and she is ending her final season with a word of advice for her younger teammates. 
"I hope that my younger teammates take advantage of being able to play competitive tennis because most people don't end up playing tennis in college, so high school tennis is a great opportunity to get better and make friends," Harding said. 
Harding's love for the sport originated by playing with her family. However, she did not begin to play competitively until her eighth-grade year at Clemmons Middle School when the tennis team was first established in 2014. 
As the years went on, Harding has planted seeds of friendship in everyone who joined the team, but none became as close as fellow senior Cara Chilson did. 
"I love being on the tennis team with her because I know that I always have a friend that I can rely on. When we're together, we always have a lot of fun, so it's nice to have someone on the team that will always make you laugh," Chilson said.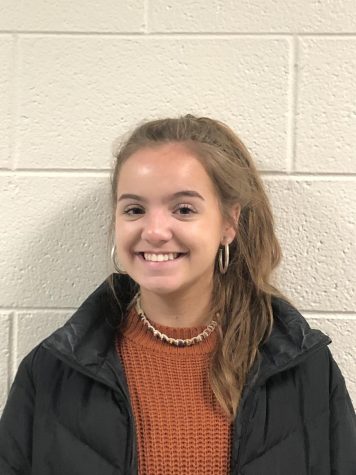 Chilson and Harding had known each other since they were little, originally from tee-ball, but their connection grew stronger as the tennis seasons progressed. 
The coach for the team, Shana Krenz, has always seen Harding as a positive, inspiring influence on the team.  
"She brings confidence, I would talk to her at the fence on a changeover, and she'd say 'Yep, I got this coach.' She has never once acted defeated, and she is always playing positive," Krenz said. 
One of Harding's greatest successes in her tennis career was during her sophomore year when she and her doubles partner qualified for the state playoffs. 
"I was mostly nervous because everyone there was so good but still excited because it was an amazing opportunity," Harding said. 
Harding has also soared to new heights with her improved record and seeding on the team from her freshman year to now. 
"She's been a great example of being a good team player, even before she seeded. Her first year she played mostly exhibition matches, then she worked hard during the offseason, and seeded sixth sophomore year. This year and last she's been a solid and reliable fourth seed and has had one of the best records overall," coach Krenz said. 
With the tennis season now over, Harding looks back on her playing time with a reassuring sense that she has made her mark and looks forward to playing with her friends for fun while she moves on to her college experiences. 
Favorite Professional Athlete: Serena Williams 
Favorite food: Buffalo chicken dip 
Pre-game song: We Ready by Archie Eversole 
Celebrity crush: Zac Efron 
 Dream vacation: Hawaii