Your AirPods aren't as cool as you think
Hang on for a minute...we're trying to find some more stories you might like.
In 2016 Apple launched what they referred to as "revolutionary technology." Alongside the iPhone 7, they unveiled Airpods, a sleek pair of bluetooth headphones whose tagline was "Wireless. Effortless. Magical." Initially, I was frightened by this new technology. I worried that the enticing Airpods would jeopardize the life of my trustworthy, wired headphones. But, it seemed that I was in good company since the rest of the country had the same reaction, quickly pointing out Airpods' flaws. However, after Christmas 2018, that all changed.
Everywhere I look, Airpods users are there. In the hallways, driving down the road and even in McDonald's, they stand ready, waiting to tell me all about their recent purchase. They laugh at my regular headphones. They stand over me, mocking as I work to untangle them. They even refuse to speak to me as they allegedly "don't speak broke." Well, Airpods users, I'm here to tell you why your recent $159 investment is not as cool as you believe.  
For starters, what separates the Airpods from most other headphones is what makes them the most pointless: being wireless. I mean really, who decided that was a good idea? Sure, the removal of the cord eliminates certain risk factors, such as it fraying and damaging the transmission of sound. But this is the generation that can't even remember their own birthdays, let alone where they put a one-inch piece of plastic. As soon as you lose one, you'll go into panic mode, tearing up whatever environment you're in. Yeah, you might find them, but at what cost? A heart attack and another step closer toward mental insanity? Each time you lose them, the paranoia will get worse.
Secondly, Airpods can legitimately ruin lives. One of their features, Live Listen, allows users to turn any Apple device into a microphone that captures sound and relays it back to the Airpods. All you need to do is leave your phone or Mac in a room, connect your Airpods to it and enable the Live Listen feature to eavesdrop on everything a person has to say. Obviously, this is a terrible idea. Not only can people overhear things they certainly weren't meant to hear, but the people being listened in on lose all of their privacy as well. Simply put, Airpods enable spying. With Airpods users everywhere, none of us are safe. I, for one, will always be on the lookout.
Finally, I want the Airpods users to think a little bit about what they're losing when they switch to wireless headphones. Wired headphones aren't just there to serve a purpose; they always have your back. Picture this: you're sitting on the toilet, scrolling through your Instagram feed as usual. You stand up, ready to leave when all of a sudden, your phone slips out of your hands and careens toward the disgusting toilet water. Before it can be destroyed, your headphones save the day, preventing your phone from reaching the bowl, and, once again, proving their worth. Can Airpods save your phone from the tyranny of toilet water? I don't think so. Wired headphones may be a little annoying to untangle, but they builds character and provide a good exercise in problem solving. I fear what will become of our youth if they never have to untie a pair of headphones.  
Overall, I get the appeal of Airpods. Despite the fact that they only have a five-hour battery life and require a strange charging apparatus, they're meant to look cool. They're specifically designed to make you stand out, and in today's world, that's very appealing. But, sometimes you've got to consider practicality above all else, and when it comes to headphones, wired are the way to go.
About the Writer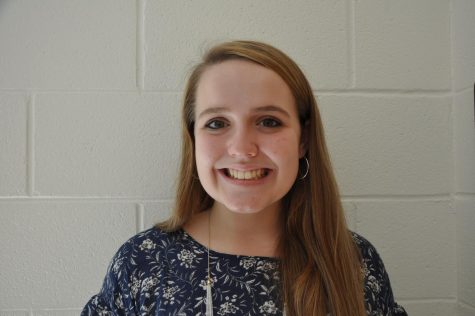 Sarah Lindsay, Editor in Chief
Sarah Lindsay began writing for the Zephyr as an opinion writer during her sophomore year of high school. In 2017, her junior year, Lindsay was given the...