Music services put to the test
Hang on for a minute...we're trying to find some more stories you might like.
Picture this: a large spectrum of all the people in the world. 30 million are Apple Music fans and 70 million are fans of Spotify. Now the real question is, which one is the real deal? When my friends ask me what app I support, they criticize my choice before I can defend it. I'm an Apple Music user.
Giving you the opportunity to listen to 50 million songs ad-free, Apple Music comes with a price of $9.99 a month for one user, or if you get a family membership, you can have six people registered for $14.99. Apple music lets you download all the songs you want and listen to them offline.  Not to mention, they give you the ability to access the lyrics for every song, so you can jam out. I don't know about you, but I love having solo jam sessions. Some other benefits Apple Music offers is letting you play music linked to one account on all your Apple devices, as well as getting exclusive access to music. If you're one of those people who love to stay up and wait for a song to release, Apple Music's got it.
On the other hand, Spotify lets you listen to millions of songs for free, or you can get premium for $9.99 a month for one user, or $14.99 for up to six users just like Apple Music. Spotify is a very similar music app that lets you have no ads and listen to music offline. Although they do sound similar, Spotify offers a wider variety of playlists to fit your mood as well as help you find new music easily. For example, once a user makes a playlist with a selection of songs fitting one genre, you are able to scroll to the bottom and add songs that Spotify thinks you might enjoy. Spotify doesn't offer you the lyrics to songs, but it does give you details about the lyrics. This is an interesting feature because it lets you find out what the meaning of certain lines are and why the artist chose to say it in the song.
Personally, I am a fan of both, but I do favor one over the other. For me, Apple Music dominates the spectrum against Spotify due to its cleanliness. Instead of just throwing all of the songs you enjoy listening to into one big playlist with other artists, Apple Music organizes it into albums specifically for that artist. For me the only disadvantage of Apple Music is you are not able to find obscure artists; Spotify gives you the ability to find them. Every week after listening to the songs you enjoy the most, the app gives you a "Discover Weekly" playlist that offers you new music that is similar to the artists you like. Yes, there's the downside with Apple Music and how it takes up storage once its downloaded, but who really needs to download the songs unless you wanted to listen to them on a flight? Now of days service providers offer unlimited data plans, so there is no need to download them unless you want to have them in your library.
There's no judgment of which app is better. Both are the same price and offer most of the same qualities, but it's up to you to pick which side you favor.
About the Contributors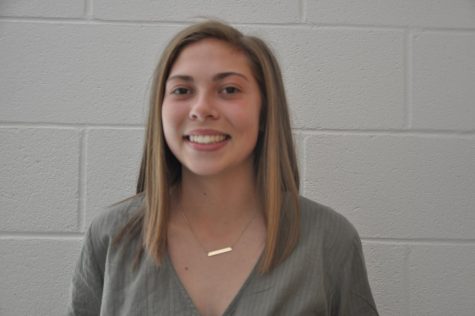 Olivia Pratapas, Opinion Writer
Olivia Pratapas is a second year, clueless yet full of wit junior opinion writer on the Opinion staff for the 2019-2020 school year. As well as being on...