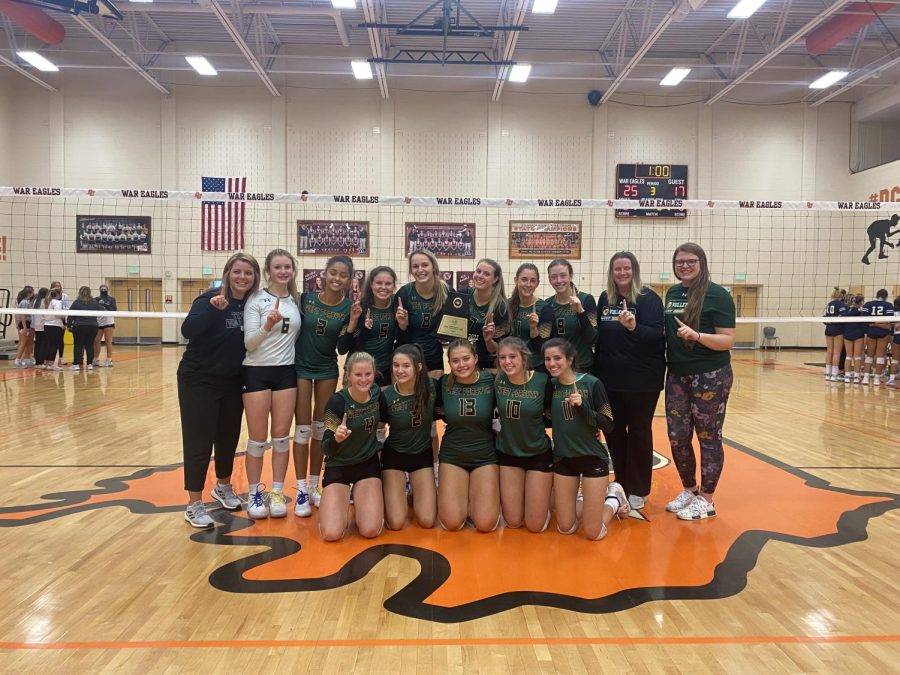 Tammy LaRue
The success of the volleyball team this year may not have been predicted, but head coach Lauren Gillon was not surprised.
Gillon was voted Conference Coach of the Year and said that she and her players serve as inspiration to one another.
"Coming into this year, a lot of teams overlooked us, but we realized early that we had the potential to be really good and that empowered me to be the best that I could be," Gillon said.
Her players agree.
"Coach Gillon is a very goal-oriented person, which reflects well on the team, and she encourages us to become close as a family by doing team bonding activities. Outside of volleyball, she always makes herself available for us and would do anything for anybody on the team," senior captain Clara LaRue said.
Gillon's leadership played a key role in the team's achievements this year. The Titans beat East Forsyth 3-0 on Oct. 20 to secure the conference championship title, while finishing with an overall season record of 21-7. Seeded No. 11 in the state, their season came to an end in a close match (3-2) against No.6 seeded Western Guilford in the second round of state playoffs Oct. 23.
The Titans attribute much of their success to their tight bonds with one another. They even used the phrase "Ten Tight" to describe their chemistry. This year, only 10 players made varsity, as opposed to the normal 12-14 girls that have been on the team in the past.
"We all had to carry our weight on the team and work extra hard. We came up with 'Ten Tight' to symbolize the close knit group that we have, and it became our reminder to play together as a family," LaRue said.
"We had a really good family mentality. Even if it wasn't volleyball, they were all really proud and excited for each other for everything…Everybody was just excited for everybody to be successful and whatever that means for them," Gillon said.
While this was the last game for seniors LaRue, Emma Cate Burhans, and Charlotte Craver, the team is relatively young and freshmen like Elizabeth Nye are eager to play for three more years, especially after receiving All-Conference honors.
"I'll just keep doing what I'm doing and hopefully we'll have a good season next year…I got All-Conference because all of the players on that team made me stronger," Nye said.
Senior Clara LaRue and junior Kennedy Weber earned All-Conference honors as well.
LaRue is planning to attend Elon University next year to continue her volleyball career, but feels that her connection to her Titan teammates is unparalleled.
"This year's team has grown me so much as a player and as a person overall. I love my teammates and cannot wait to come back next year to cheer them on," LaRue said.