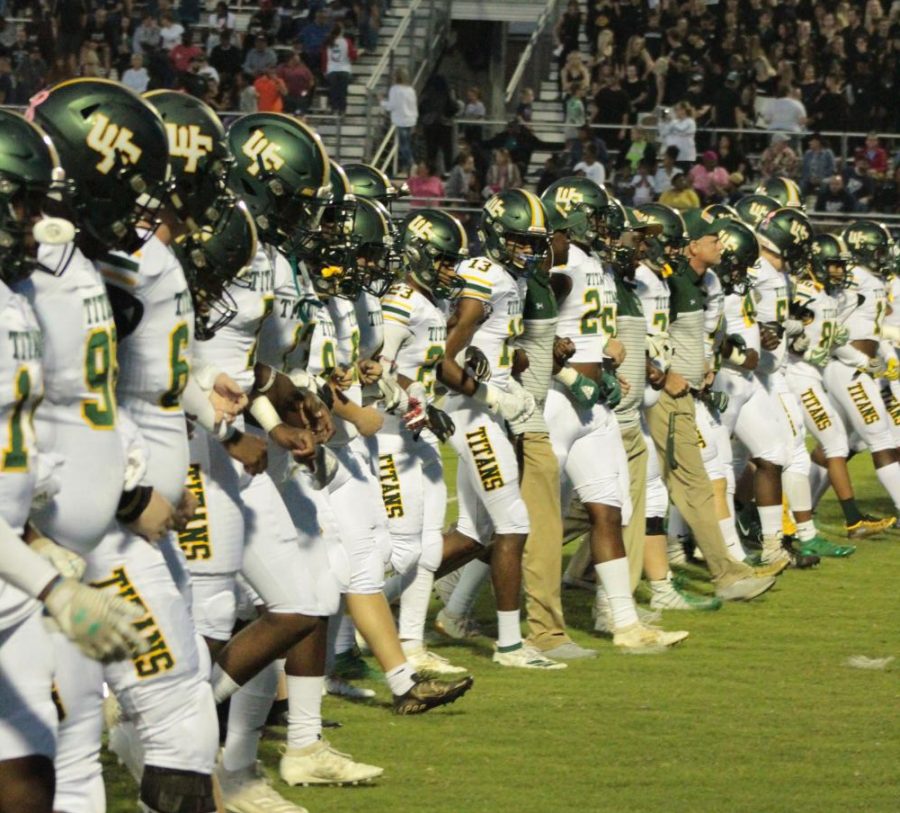 Ben Radspinner
At 4 p.m. on a Friday afternoon, the varsity football team would have already finished their pregame meal and would be getting ready to play in Mooresville. Instead, Head Coach Adrian Snow overlooks the desolate locker room that should be bustling with pregame activity.
The locker rooms will have to stay empty for a little while longer as a precaution mandated by the North Carolina High School Athletic Association (NCHSAA), which announced that high school practice will start Feb. 8 with the first playing date being Feb. 26. Football teams will play on a condensed schedule consisting of seven conference games.
Winston-Salem/Forsyth County Schools has implemented additional safety measures such as limiting practice time to 45 minutes.
"It's a good thing because they have to do everything to keep everyone safe so that we can have a season in the spring. My brother and I definitely want to stay safe," senior offensive guard Jared Wilson said.
Since the beginning of August, the team has been practicing twice a week in pods, which are groups of 25 athletes and coaches that stay together throughout Phase One. But with 140 players, it takes more than three hours for all of the players to complete practice. The team is divided into six groups that practice separately with their pod for a 45-minute session each.
"It's not the best, but it's the hoop we jump through. I would rather have a hoop to jump through than no hoop at all," Snow said.
The players are staying optimistic in response to the restrictions.
"At least we get to go out there and play," junior linebacker Mack David said. "We don't let it get us down; we just keep going and try to fight through all the limitations."
The Titans have been meeting weekly as a team and individually with coaches. Snow said he has wanted to ease his players' minds and keep them connected as best he can.
"In the heart of the pandemic, there was a lot of worry and a lot of stress. We would ask the players if they need anything. We tell them, 'If you need anything, we'll make it happen.'"
Having that social interaction has been crucial for the team. Even through Zoom, you can tell if they've had a good day or a bad day," Snow said.
David said the team has no problem staying motivated.
"We all love the game really very dearly, and we keep talking to our coaches and keep playing and practicing."
Senior free safety Jake Hill agreed, "I stay motivated because I know at some point we're going to play. All my buddies are out there, and we're pushing each other to be better."
Wilson's motivation comes from being able to play his senior year and also playing with his little brother, freshman Marcus Wilson.
"He's a good player…I've never played a sport with him, so I really want to play with him," Wilson said.
According to Snow, the biggest setback is not being able to use any equipment. "We're having football workouts without a football. That makes it a little tough." Snow said if the county would increase the pods to 50 and let them practice with a ball, it would be a huge help.
Moving the season to February completely changes the dynamic of high school football. A lot of teams will lose key players because they will graduate early and enroll at their universities in January. However, in spite of losing 30 seniors from last year's team, Snow feels good about the group coming back and is confident that JV players moving up will do a good job filling in the gaps.
"We've gotta do what we gotta do– and we're gonna do it," Snow said.
There are pros and cons to postponing the season until February.
"It's a long time away, but it helps us. It gives us an advantage to get us where we want to be and get us in shape and conditioned very well. First game we should know what to do and execute very well," David said.
Hill added, "I don't like being cold and having to run full speed into somebody. That doesn't feel very good. But other than that, at least we get to play."
Snow has his fingers crossed for a season in February: "I think it would be cool if we could all bundle up, cheer for the Titans, and have a good time."
Governor Roy Cooper announced Sept. 2 that practice numbers could increase to 50, but the team is waiting on a decision by the county.