Zephyr Jams: Quarantine Edition
For me music is always the answer. No matter what mood I'm in, I know music will make me feel better. The past week has been a complete upheaval of life as we know it. These next few weeks will continue to be weird. But that doesn't mean everything in our lives must change or cease to exist as we know it. We can still find comfort in each other, our common experiences and our love of music. These songs may cover a wide variety of genres, but they have all helped us cope with this new reality. So, without further ado, here is a sampling of songs from our staff to you.
https://open.spotify.com/playlist/49pRlrrWrcu0I6sIIk8DXN?si=2dH4vc4zTf2v0yf-5fce_Q
Clara LaRue, Features Writer: Good Day – Surfaces
Maggie Estes, News Writer: The Louvre – Lorde
Gabi Jenkins, Opinion Writer: Faith – The Weeknd
Jenna Jordan, Opinion Writer: Dead Century – Wildlife
Lee Krebs, Opinion Writer: 888 – Cavetown
Ella Menzi, Sports Writer: Die Young – Kesha
Emily Moosbrugger, Opinion Writer: Rose Blood – Mazzy Star
Olivia Pratapas, Sports Writer: Someday – Sugar Ray
Parker Ramey, Opinion Writer: Rescue – Lauren Daigle
Lillian Reid, Opinion Writer: Present Tense – Radiohead
Keri Rhodes, News Writer: CITY OF ANGELS – 24kGoldn
Mia Scott, Opinion Writer: Toxic – Britney Spears
Jackson Stanley, Sports Editor: Everybody – Mac Miller
Leanna Bernish, News Editor: Oom Sha La La – Haley Heynderickx
Faith Duggan, Features Writer: South of the Border – Ed Sheeran
Tyson Edwards, Co-Editor in Chief: Good Ol' Fashion Nightmare – Matt and Kim
Casey Griffith, Opinion Editor: Someone to Stay – Vancouver Sleep Clinic
Lexy Hairston, Photography Editor: Prices – Lil Uzi Vert
Kelly Kendall, Co-Editor in Chief: no tears left to cry – Ariana Grande
Averie King, Features Editor: Take it Easy – The Eagles
Alex Vargas, Online Editor: Crash My Car – Coin
About the Writer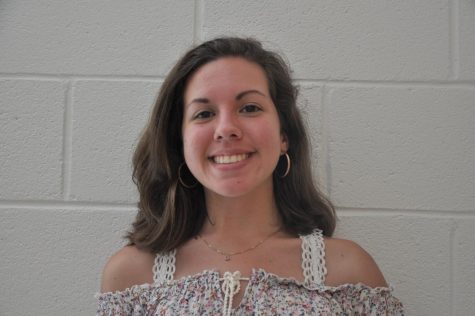 Leanna Bernish, News Editor
Leanna Bernish began writing for the Zephyr as a news writer during her junior year of high school. She wrote occasionally for sports and features as well,...